PRESS RELEASE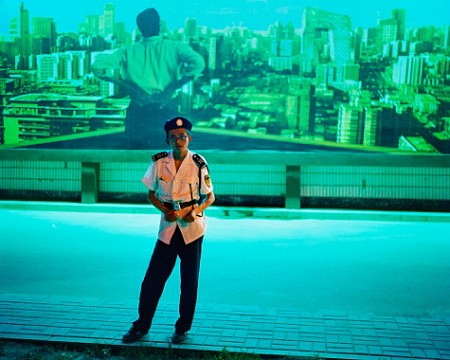 Mike Osborne - On Location: Beijing
Feb 21 – Mar 21, 2009
Holly Johnson Gallery in Dallas is pleased to present Mike Osborne's "On Location: Beijing", new photographs focusing on the city in the final months before the Olympic Games. These images are a continuation of an ongoing body of work. A reception will be held Saturday, February 21, from 5:00 to 8:00 p.m. The exhibit continues through Saturday, March 21, 2009.
Mixing the concerns of documentary street tradition with the formal consideration of more premeditated modes of photography, Osborne's new pictures present Beijing's transformation in almost theatrical terms. Proscenium-like framing isolates the city's inhabitants on various stages where the future and, sometimes, the past appear to insert themselves into the present. A single worker squats at the base of the towering Television Cultural Center, still under construction. People photograph themselves in the un-landscaped grounds of the Olympic Stadium. A teenage security guard stands on a curb, staring uneasily out of the picture, while behind him on a street-level billboard, a man contemplates a simulation of the city. Mike Osborne's images construct and deconstruct notions of photographic reality almost simultaneously.
Osborne's recent work in Beijing was supported by the Graham Foundation for Advanced Studies in the Fine Arts. He was also the recipient of a Houston Center for Photography Fellowship in 2007, which included a monetary award and solo exhibition. "On Location: Beijing" was first shown at HCP in September-October of 2008. The HCP Fellowship selection was juried by Anjali Gupta, Editor-in-Chief of Artlies magazine, critic and video producer and Rachel Cook, artist, writer and independent curator.
Osborne received a B.A. in English from Stanford University in 2000, and an M.F.A. in Studio Art from the University of Texas in Austin in 2006. His work is in the collection of The Austin Museum of Art and the Dallas Museum of Art as well as numerous private collections. He was a Fulbright Scholar in Taiwan from 2006 to 2007, and is currently a Resident Fellow at the Akademie Schloss Solitude in Stuttgart, Germany from 2008 to 2009. He is also a past recipient of an Artpace Travel Grant, a Puffin Foundation Grant, and numerous Presidential Scholarships from the University of Texas.
In 2007 Osborne's exhibition with the gallery, "Enter the Dragon", was reviewed in The Dallas Morning News, Artlies magazine, and …might be good. In 2006 Osborne's "Press Pictures" were featured on the cover and in the "Visual Space" section of Artlies magazine. In 2005-2006 his work from "Interchanges" was included in, "22 to Watch: New Art in Austin", which traveled to the Dallas Center for Contemporary Art, the Austin Museum of Art, and the Galveston Arts Center.