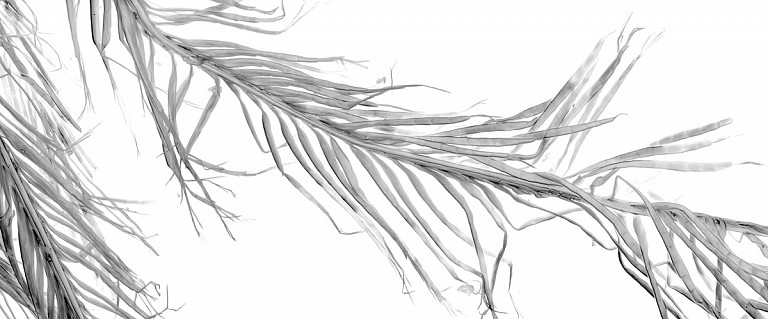 PRESS RELEASE: Dornith Doherty - Atlas of the Invisible Opens November 21
November 6, 2020 - Holly Johnson Gallery
Holly Johnson Gallery in Dallas is pleased to present Dornith Doherty: Atlas of the Invisible. For her sixth solo exhibition at the gallery, Doherty presents new large-scale black and white photographs alongside a video projection. The exhibition opens November 21 with an open house from 12:00 to 4:00 p.m.
For over twenty years Doherty's work has been concerned with our stewardship of the natural environment. This new project continues to explore that subject amid the effects of air pollution on migratory birds.
The common view of Earth's atmosphere may be that it is an empty and boundless void, but in fact, it is filled with diverse particles, many so tiny they can only be perceived when they coalesce into the haze of distance. We are deeply entangled with this ecosystem; responsible for its increasingly mercurial character, but also profoundly affected by the air's intensifying contamination.
I would like to acknowledge the Air Space, Rights, and Materiality Working Group at the University of North Texas, whose fellowship and support were of incalculable value to the project. – Dornith Doherty
Doherty was born in Houston and received a Bachelor of Art degree cum laude from Rice University and a Master of Fine Arts degree in Photography from Yale University. She is a John Simon Guggenheim Memorial Foundation Fellow and a recipient of grants from the Fulbright Foundation, the Japan Foundation, the United States Department of the Interior, the University of North Texas, the Houston Center for Photography, and the Indiana Arts Commission. She received the Honored Educator Award from the Society of Photographic Education South Central Conference in 2012 and the Texas Legislature named her 2016 Texas State Artist 2D. She resides in Southlake, TX and is a Distinguished Research Professor at the University of North Texas, where she has been on the faculty since 1996.
Doherty has been invited to present scholarly papers and artist talks at over 80 institutions and conferences worldwide. Her work has been featured in many exhibitions throughout the US and abroad at institutions including the Amon Carter Museum of American Art, Fort Worth, TX; Art Museum of Southeast Texas, Beaumont, TX; Bluecoat, Liverpool, England; Centro de Fotografía, Tenerife, Spain; Chapter Art Centre, Cardiff, Wales; Crystal Bridges Museum of American Art, Bentonville, AR; Dayton Art Institute, Dayton, OH; The Dick Institute, Kilmarnock, Scotland; Encuentros Abiertos Photography Biennial in Buenos Aires, Argentina; Exchange, Penzance, England; Ferens Art Gallery, Kingston upon Hull, England; FotoFest, Houston, Texas; Galerie Lužánky, Brno, Czech Republic; Galveston Art Center, Galveston, TX; The Grace Museum, Abilene, TX; Grunwald Gallery of Art, Indiana University, Bloomington, Indiana; Heuser Art Gallery, Bradley University, Peoria, IL; Impressions Gallery, Bradford, England; Indiana State Museum, Indianapolis, IN; National Academy of Sciences, Washington, D.C.; Minneapolis Institute of Arts, Minneapolis, MN; MOCA Toronto, Toronto, Canada; Museum Belvédère, Heerenveen, the Netherlands; Museum of Photography, Rafaela, Argentina; New Mexico Museum of Art, Santa Fe, NM; Ontario Science Centre, Toronto, Canada; Royal Albert Memorial Museum & Art Gallery, Exeter, England; Smithsonian National Museum of Natural History, Washington D.C.; and Tucson Museum of Art, Tucson, AZ.
Her work is in many prestigious permanent collections, including the Museum of Fine Arts, Houston, Amon Carter Museum of American Art, Crystal Bridges Museum of American Art, Art Museum of Southeast Texas, Lamar University, Martin Museum of Art at Baylor University, University of Texas at San Antonio, Museum of Texas Tech University, Milwaukee Art Museum, Minneapolis Institute of Arts, Spencer Museum of Art at the University of Kansas, Yale University Library, Brandts Museum of Art and Visual Culture in Denmark, UT Southwestern Medical Center, MD Anderson, City of Denton, Federal Reserve Bank, Dana-Farber Cancer Institute, and Centro de Fotografía in Spain.
Holly Johnson Gallery is located at 1845 East Levee Street #100, Dallas, Texas 75207. Gallery hours are 11:00 to 5:00, Tuesday through Saturday, and by appointment. For more information please call 214-369-0169, email info@hollyjohnsongallery.com, or visit the gallery website at www.hollyjohnsongallery.com.
Download Article (PDF)
Back to News