PRESS RELEASE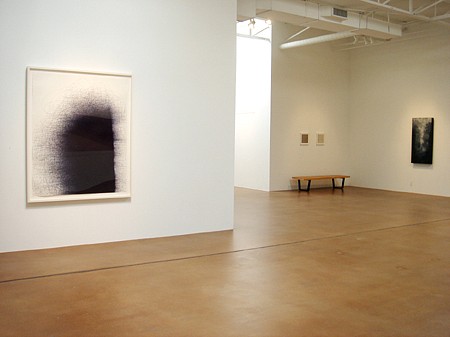 INK, inc.
Jun 19 – Aug 14, 2010
Holly Johnson Gallery in Dallas, Texas is pleased to announce the opening of INK, inc., an exhibition of recent work by ten artists using ink as their primary medium. From the subtle tonal shifts in Isabel Albrecht's small square ink drawings to the miniaturized mark making of Jacob El Hanani, ink takes on many colors, forms, and even textures in the exhibition. A reception will be held Saturday, June 19, from 6:00 – 8:00 p.m.
John Adelman received his MFA from the University of North Texas. Adelman's drawings play by the rules - his rule- based systems are combined with obsessive mark-making and can be derived from mathematics, logic, and/or personal and consequential rules that he sets for himself. These processes result in drawings that are completely unpredictable.
Isabel Albrecht was born in Frankfurt/Main, Germany and received an MA in drawing from Camberwell College of Arts, London and an MA in printmaking from the Royal College of Art, London. Repetition is central to her drawings and results in patterns that are complex in their simplicity, often composed solely of parallel vertical or horizontal lines. The subtle tonal shifts in her drawings soften the geometric forms created from the patterns and create the illusion of vibration and movement.
Astrid Bowlby received her MFA from the Pennsylvania Academy of the Fine Arts. Her densely-packed drawings have been described as controlled chaos. She methodically applies ink to paper until the forms, often spirals and flowers appear as one dark, solid field. From afar, the drawings appear as a mass of ink, and the individual elements are only discernable upon closer inspection.
Ernesto Caivano was born in Madrid, Spain and received his MFA from Columbia University. He was included in the 2004 Whitney Biennial at the Whitney Museum of American Art in New York. By absorbing numerous references from medieval fairytales, Renaissance literature, fractal geometry or more contemporary discoveries in the greater cosmos, Caivano creates a metaphor of human progress in his detailed ink renderings.
Todd Camplin received his MA from the University of Texas at Dallas and an MFA from the University of North Texas. His drawings use words and phrases appropriated from popular media and personal messages. His work attempts to crack the code of words, while at the same time helping others experience text the way he does, as a mystified abstract.
Craig Dongoski received his MFA from the University of South Dakota and is currently an assistant professor of art at Georgia State University. Dongoski works in multimedia technology and the conventional practice of drawing. The relationship of the spoken and written word explores the connection between the drawn mark and the sound produced while inscribing. Visually and conceptually the drawings are connected to and assimilate with geological time and sound waves.
Jacob El Hanani was born in Casablanca, Morocco, and attended the Avni School of Fine Arts in Tel Aviv, Israel, and the École des Beaux-Arts in Paris. He has pursued his vision for over thirty years with tenacity and zeal unswayed by the ever-changing trends of the contemporary art world. He is a meticulous mark maker creating drawings that range from small geometrical designs, to the weave of a piece of cloth, to the Hebrew alphabet.
Il Lee was born in Seoul, Korea, and received his MFA from the Pratt Institute. His drawings are currently featured in a solo exhibition at the Crow Collection of Asian Art in Dallas. He works almost exclusively in ball point pen, creating dense, dark-colored masses out of small, individual marks. Lee often goes through hundreds of pens per drawing, and his abstractions are rhythmic and mesmerizing, having the appearance of movement as the eye crosses the page.
Linn Meyers received her MFA from California College of Arts and Crafts. She has shown extensively throughout the US, and was included in the 2000 Pittsburgh Biennial. Recently two wall drawing were featured in, at the time being, at the Phillips Collection, Washington D.C. Her drawings are composed of rhythmic dots and lines, creating the illusion of ripples in sand or water.
"M" received his BFA from the University of North Texas, and currently lives and works in Fort Worth, Texas. He was a member of Denton's Good/Bad Art Collective and is currently in the acclaimed band Mission Giant. His drawings of organic transformations, detritus and accumulated treasures recall our past and the fantasies of our collective memory.