PRESS RELEASE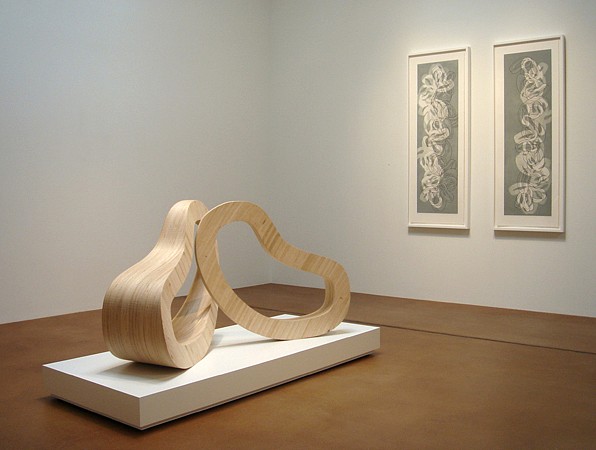 Joan Winter: Counterpoint
May 10 – Jun 14, 2008
Holly Johnson Gallery in Dallas is pleased to announce the opening of Counterpoint, an exhibition of new sculpture and multi-media prints by the Dallas artist. An opening reception will be held on Saturday, May 10, from 5:00 to 8:00 p.m. The exhibition continues through Saturday, June 14, 2008. An illustrated catalogue with an essay by Jim Edwards will be available.
In Counterpoint, Joan Winter continues to investigate simple shapes through a diversification of media while creating a deeper exploration of open-ended forms and their interplay. Commenting on the title of the body of work, the artist states, "…Counterpoint (as in music) refers to the relationship of two or more voices that are independent in contour and rhythm, although interdependent in harmony…"
The new sculptural work takes a simple shape and manifests it into architectural dimensions. Through these new forms, executed in wood and cast resin, Winter demonstrates her continued interest in the connections between the constructed and the natural environment and investigation of light and transparency.
In contrast to the sculptural work, Winter is drawn to the spontaneity and playfulness of the printmaking process – exploring connections to the three-dimensional work and the relationships between time, space and movement.
Winter's hand-made paper pieces were made in collaboration at Dieu Donne Papermill in New York City. The Abaca paper, made with pulp from the Abaca tree provides the background for cotton blow-out overlays. Her prints, made in collaboration at Flatbed Press in Austin, are often layered multi-plate etchings that are frequently made using wood as surface texture in the etching process. In the new large scale prints, she uses a narrow vertical format and subtle colorations, influenced by Japanese "pillar prints" from the Edo period.
Winter's paintings on stretched linen are made with traditional print-making techniques, expressing form as shadow and exploring gravity on a flat plane. Scale changes play an important factor in providing a sensation of vertical weight that is layered with multiple variations of gold, copper and white pigments.
Joan Winter received a Bachelor Degree in Art and Design from Texas Tech University in Lubbock, Texas in 1969. Winter worked in the Interior Architecture field for architectural firms in Texas and Louisiana prior to pursuing her Master of Fine Art's degree in Sculpture and Printmaking from Southern Methodist University in Dallas, Texas in 1993.