PRESS RELEASE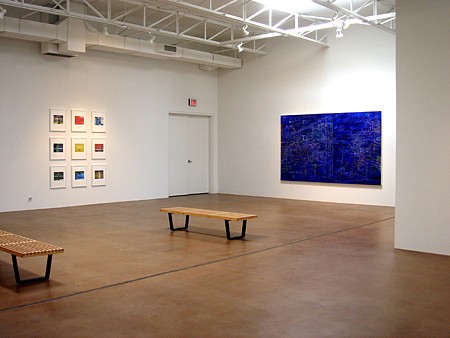 Back and Forth: Celebrating 5 Years
Mar 27 – May 1, 2010
Holly Johnson Gallery in Dallas is pleased to announce the opening of Back and Forth: Celebrating Five Years on Saturday, March 27, from 6:00 to 8:00 pm. Back and Forth commemorates the fifth anniversary of Holly Johnson Gallery, located in the Dallas Design District, and features work by many of the gallery's artists. Back and Forth continues through May 1, 2010.
Since the gallery's inauguration in April of 2005, it has presented close to fifty exhibitions. The anniversary exhibition is about looking back and looking forward—highlighting where we have been and where we are going. The gallery's program promotes contemporary American art – half of the gallery's artists are Texas based - working primarily in painting, drawing and photography, as well as supports artists from elsewhere – Boston, Chicago, New York City, Philadelphia, Sacramento and Sausalito. Approximately half of the gallery's artists are included in Back and Forth. They include; John Adelman, David Aylsworth, William Betts, Alain Clement, Dornith Doherty, Tommy Fitzpatrick, Christopher French, Josh Garber, Otis Jones, Janaki Lennie, David Maisel, Mike Osborne, Kim Cadmus Owens, Matthew Rich, David Row, Margo Sawyer, Mark Sheinkman, Gael Stack, and Jackie Tileston among others.
Works by many of the gallery artists are included in the permanent collections of such institutions as the Museum of Modern Art, the Whitney Museum of American Art and the Metropolitan Museum of Art in New York, the Dallas Museum of Art, the Modern Art Museum of Fort Worth, the Museum of Fine Arts, Houston, the Austin Museum of Art, the San Antonio Museum of Art, the Los Angeles County Museum of Art and the San Francisco Museum of Modern Art.
William Betts, who recently had his third exhibition with the gallery, paints with a software-controlled, automated process that applies thousands of individual drops or lines of paint. The gallery also recently held an exhibition honoring the late artist Virgil Grotfeldt with a fifteen year survey of paintings and works on paper. Other past exhibitions include painters Otis Jones and Kim Cadmus Owens, photographers Dornith Doherty and Casey Williams and sculptor Margo Sawyer, all from Texas.
This summer the gallery will again offer a group exhibition of artists using ink. Artists included in the exhibit include John Adelman, Todd Camplin, Jacob El Hanani, Il Lee and several others. Future solo exhibitions in the fall will feature work by relative newcomers to the Dallas gallery that have been included in group shows previously. Paintings by both Mark Sheinkman and Kim Squaglia will be featured in the fall season.
Holly Johnson Gallery is located at 1411 Dragon Street, Dallas, Texas 75207 in the Dallas Design District. Gallery hours are 11 am to 5 pm, Tuesday - Saturday, and by appointment. The gallery is a founding member of CADD (Contemporary Art Dealers of Dallas). For more information please call 214-369-0169, email info@hollyjohnsongallery.com, or visit the website at www.hollyjohnsongallery.com.