PRESS RELEASE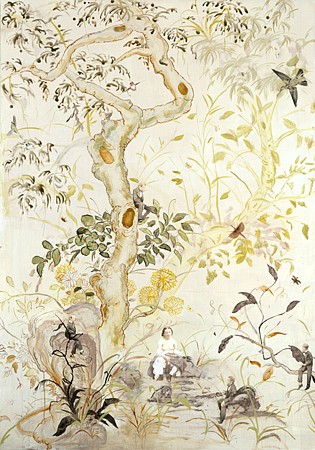 Scott Calhoun: Uncovering Conspiracies
Dec 2, 2005 – Jan 7, 2006
Holly Johnson Gallery in Dallas, Texas is pleased to announce the opening of Uncovering Conspiracies in Imaginary Places, an exhibition of new paintings and works on paper by Scott Calhoun. An opening reception for the artist will be held on Friday, December 2, from 6:00 to 8:00 p.m. The exhibition continues through January 7, 2006.
By integrating photo-mechanical images borrowed from daguerreotypes and nineteenth century society, Scott Calhoun sets the stage for a decadent reverie of the human psyche. The collaged images recall the Victorian era; a period seeped in romanticism but defined by codes of moral etiquette and repressed behavior. While the story-line remains a mystery, Calhoun's paintings are exotic theater - leaving us to contemplate their content as well as their ability to question the idea of beauty.
The artist plays to our desire for delight by filling the pictorial plane with an overabundance of visual splendor inspired by Pictorialism, Japanese silk painting, Asian lacquer ware, Victorian fairy painting, and Chinoiserie. Calhoun employs a cast of characters recognizable to us through their narrative appeal yet manipulates our perception of them. Genteel men and women exploring these gardens seem quite proper, but once outside of society, they become predators, tricksters, and sirens.
Scott Calhoun was born in Dallas, Texas. He received a M.F.A. (Painting) from the University of Houston in 1998 and a B.F.A. from the University of Texas at Austin in 1993. His work has appeared in numerous exhibitions throughout the United States and abroad such as Susan Vielmetter in Los Angeles, California; Lawndale Art Center, Houston, Texas; Diverse Works, Houston, Texas; Mixture Contemporary in Houston, Texas; Nathan Larmendy Gallery in Ojai, California; the Royal Art Lodge, Winnipeg, Manitoba, Canada; and Taka Ishii Gallery in Tokyo, Japan. He currently lives and works in New York City.