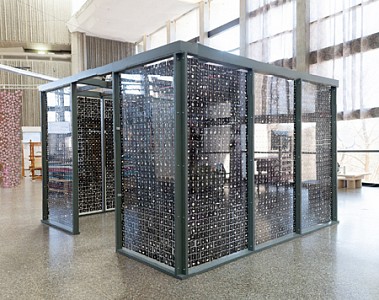 Dornith Doherty's VAULT: EXCHANGE opens at the Ontario Science Centre
April 20, 2019 - Ontario Science Centre
Dornith Doherty's Vault: Exchange presents 5,000 x-ray images of seeds - the total number needed to preserve a species. Housed within a transparent vault-like structure installed in the Great Hall of the Ontario Science Centre, Vault Exchange promps active participation during three seed exchange events, where visitors are invited to help build a living seed bank onsite.
Visitors will be able to remove one artwork from the vault's walls and replace it with a glassine envelope filled with a single Canadian seed, and then exchange their addition to the seed bank for a gift of one x-ray photograph from the vault's walls. Doherty's x-ray imagery was captured in collaboration with seed bank scientists as part of her long-term project Archiving Eden.
Vault: Exchange encourages viewers to examine their responsibility as global citizens while reflecting on the monumental effort required to preserve botanical biodiversity. It also highlights the environmental and political instabilities that instigated the collaborative scientific effort to generate a backup system for Earth's fragile botanical life.
Over the duration of the exhibition from April until August of 2019, the vault-like structure will change physically and visually, from representational to actual, and from dark to light.
Download Article (PDF)
Back to News