PRESS RELEASE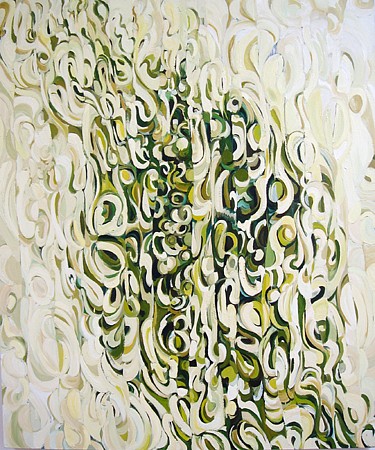 Sydney Philen Yeager: Pleats & Volutes
Mar 31 – May 6, 2006
Holly Johnson Gallery in Dallas is pleased to announce the opening of Pleats & Volutes, an exhibition of new paintings by Sydney Philen Yeager. An opening reception for the artist will be held on Friday, March 31, from 6 to 8 p.m. The exhibition continues through Saturday, May 6, 2006.
Sydney Philen Yeager received a Bachelor of Fine Arts, a Master of Fine Arts, and a Bachelor of Arts in English from the University of Texas in Austin. For the past ten years she has taught at the Austin Museum of Art at Laguna Gloria and Austin Community College. In 2005, Yeager was a visiting artist at the American Academy in Rome. Her stay at the American Academy was funded by grants from Texas Commission on the Arts and a City of Austin Cultural Arts Grant. In 1996, Yeager was awarded a Mid America Arts Alliance Grant, funded by National Endowment for the Arts, in the field of Painting and Works on Paper.
Yeager's work has been widely exhibited across the state of Texas. In 2003-2004, Little Mysteries: Sydney Philen Yeager, a ten year survey of Yeager's work was curated by Clint Willour of the Galveston Arts Center. The exhibit traveled to Arthouse in Austin, The Gallery at University of Texas in Arlington, Tyler Museum of Art, The Grace Museum in Abilene, and The Galveston Arts Center. In 1996, a one person exhibit titled, Art in Process: Body/Language was displayed at the Austin Museum of Art. Sydney Yeager's work is in the permanent collections of Austin Museum of Art, El Paso Museum of Art, The Grace Museum in Abilene, the Art Museum of Southeast Texas in Beaumont, and Tyler Museum of Art.
With a palette of vivid hues and sumptuous imagery that bends, loops, and undulates, Yeager's new paintings overload the senses. The opulent surfaces are worked with thick, gestural brushstrokes and painted with layer upon layer of dense, brilliant color. Inspired by things as divergent as 1960's Pucci scarves, Baroque ceiling paintings, rock outcroppings of the Davis Mountains, and memories of comic books collected as a child, there is a feeling of harnessed chaos that emerges from this exuberant collision of organic forms and intense colors - a hallmark of her work from the past several years.