PRESS RELEASE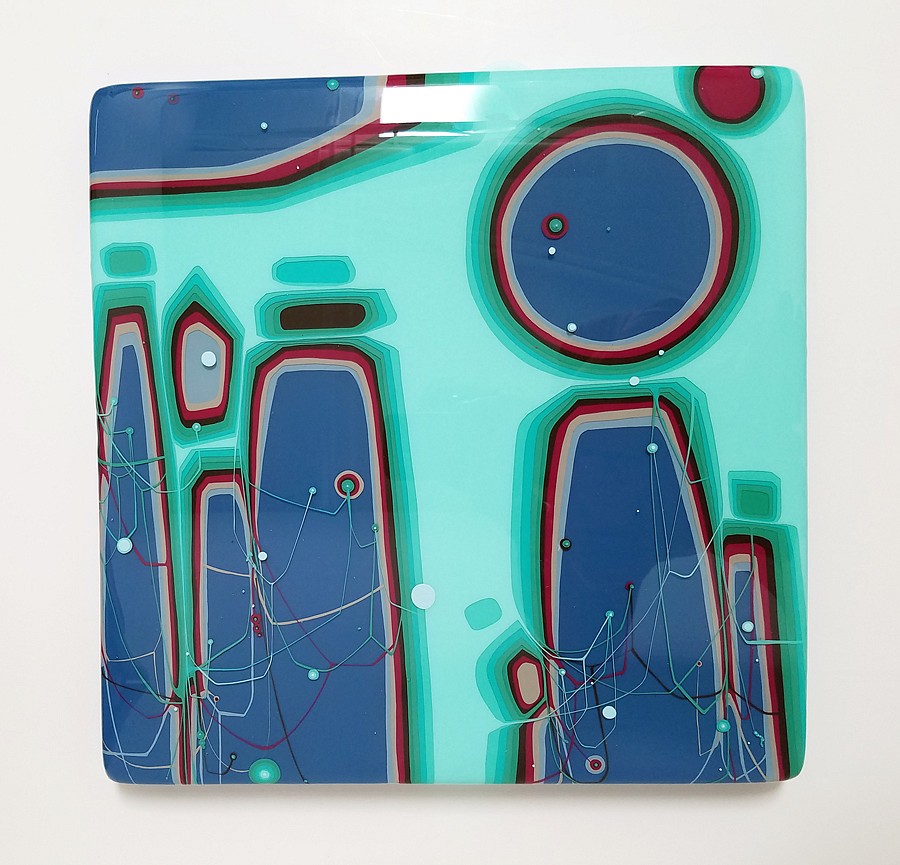 JOYRIDE: New Paintings by Kim Squaglia
Oct 13 – Dec 21, 2018
Holly Johnson Gallery in Dallas is pleased to announce the opening of, JOYRIDE, an exhibition of new paintings by Kim Squaglia, a Sacramento based artist. An opening reception for the artist will be held Saturday, October 13, from 5 to 8 pm. The exhibit continues through Friday, December 21, 2018.
Kim Squaglia's paintings have a distinct sense of topography, created by a technique of separating multiple layers of paint between alternating coats of resin. The paintings span multiple historic references from Surrealism to midcentury modernism to dense patterned ornamentation. Delicately rendered biomorphic forms, webs, and tendrils create spaces with cavern-like depths or deep ocean trenches.
"My primary technique consists of multiple layers of meticulously painted forms within transparent layers of resin. Within areas of flat color, recurring biological-like forms appear and disappear with the gradation of color that subtly change hues as they expand from their structural centers. I am interested in perceptual aspects of color, illusion of space, and suggestion of movement. I imagine the picture plane as a microscopic gelatinous pool filled with living creatures..."
Kim Squaglia received a B.F.A. from California State University at Chico in 1996 and a M.F.A. from the University of Texas at San Antonio in 2000. In 2001, she received an Artpace Travel Grant and was a resident at the Skowhegan School of Painting and Sculpture in Skowhegan, Maine.
Her work is included in the permanent collections of Fred Jones Jr. Museum of Art, Norman, OK; The Crocker Museum of Art, Sacramento, CA; Foley Gardere, Dallas, TX; The Progressive Insurance Collection, Cleveland, OH, Neiman Marcus Collection (San Francisco, CA, San Antonio, TX, and Atlanta, GA); The Microsoft Collection, Seattle, WA; Capitol One Bank Collection, Houston, TX; and Focus-Abengoa Collection in Seville, Spain. Her work has been written about in publications including Voices of Art Magazine, San Antonio Current, Art Lies, and the Los Angeles Times.
In 2005 David Pagel, art critic for the Los Angeles Times, organized the exhibition, POPulance, for the Blaffer Art Museum at the University of Houston including the work of Polly Apfelbaum, Gajin Fujita, Rachel Hecker, Jeff Koons, Beatriz Milhazes, Takashi Murakami, Lari Pittman, Marcelo Pombo, David Reed, Kim Squaglia, and Fred Tomaselli, among others. POPulance traveled to the Museum of Contemporary Art in Cleveland and the Southeastern Center for Contemporary Art in Winston-Salem, NC.
Holly Johnson Gallery is located within the Dallas Design District at 1845 Levee Street #100 in Dallas, TX 75207. Gallery hours are 11:00 to 5:00, Tuesday through Saturday. The gallery is a founding member of CADD - Contemporary Art Dealers of Dallas. For information call 214.369.0169, email info@hollyjohnsongallery.com, or visit www.hollyjohnsongallery.com.