PRESS RELEASE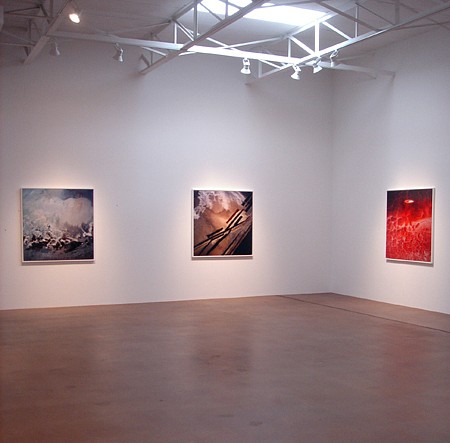 David Maisel: Black Maps
Mar 28 – Apr 25, 2009
Holly Johnson Gallery in Dallas is pleased to announce the opening of, Black Maps, an exhibition of photographs by the internationally known artist David Maisel. A reception will be held Saturday, March 28, from 5-8 p.m. The exhibition continues through April 25, 2009.
For more than twenty years, David Maisel has chronicled the tensions between nature and culture in his large-scaled photographs of environmentally impacted landscapes. Because the sites are often remote and inaccessible the artist frequently works from an aerial perspective, creating photographic images that are otherwise unattainable. For the artist's first show in Dallas he has selected photographs from the multi-chaptered series Black Maps.
In The Lake Project (2001-2002), David Maisel documents the human destruction of California's Owens Lake, destroyed in 1926 by the Los Angeles Aqueducts. The aerial photographs of the lake present the viewer with images that are both awe inspiring and unsettling. The artist's aerial views scramble traditional depictions of the landscape, turning images of environmentally ravaged land into vast abstract fields.
Terminal Mirage (2003-2005) continues the artist's investigation of the impacted environment transforming aerial views of polluted lands and bodies of water into planes of saturated color, belying their foreboding subject matter. "We sense that this violent range of continuous colors is extra-ordinary and possibly dangerous," says Anne Wilkes Tucker, "Nevertheless, we are drawn in by their formal beauty.
Oblivion (2004-2006) documents urban views of Los Angeles. Using an aerial vantage point, he transforms the familiar into an ominous black and white map. "The aerial images in Oblivion describe a potentially desecrated urban fabric", says Maisel, "Even as they transcribe the commonplace; they cannot help but serve as portent of some future conflagration."
This past year his work has been acquired by The Victoria and Albert Museum, London, The San Jose Museum of Art in California, and Bates College in Lewiston, Maine. Maisel's work is also in the permanent collections of the Metropolitan Museum of Art; the Los Angeles County Museum of Art; the Brooklyn Museum of Art; the Santa Barbara Museum of Art; and the Museum of Fine Arts, Houston. Library of Dust an oversized monograph was published by Chronicle Books in the Fall of 2008, as well as two other monographs published by Nazraeli Press; The Lake Project (2004) and Oblivion (2006).
Born in New York City (1961), Maisel received his BA from Princeton University, MFA from California College of the Arts, as well as studying at Harvard's Graduate School of Design. He has been the recipient of an Individual Artist's Grant from the National Endowment for the Arts. Maisel has recently been an Artist in Residence at both the Getty Research Institute and at the Headlands Center for the Arts. He is presently a candidate for the Alpert Award in the Visual Arts, which will be announced in March, 2009. Maisel currently lives and works in the San Francisco area.