PRESS RELEASE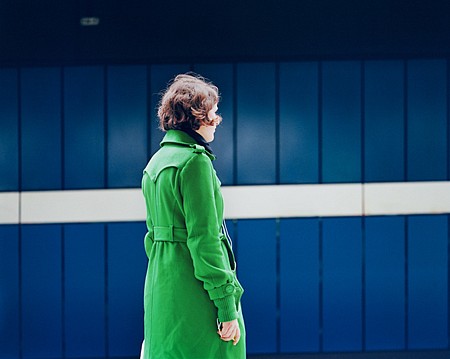 Mike Osborne: Papers and Trains
Jan 8 – Feb 12, 2011
Holly Johnson Gallery is pleased to present, Papers and Trains, an exhibition of recent photographs by Mike Osborne. Papers and Trains brings together two distinct but subtly interconnected photographic projects. Press Pictures revolves around the newspaper production process while Underground focuses on the subterranean waiting areas of a German metro system. A reception will be held Saturday, January 8, from 6 to 8 p.m. The exhibit continues through February 12.
The photographs from Press Pictures were shot in printing facilities in the US, Taiwan, and Germany between 2005 and 2008. The images describe a relentless flow of information, the tremendous physicality of the printing process, and the monumentality of the machines themselves. They also reflect back on the mechanics of photographic production and dissemination at a time when technological upheaval has once again reconfigured our collective understanding of photography as a medium.
The photographs in Underground depict a series of figures waiting for their trains in the quasi-minimalist, retro- futuristic, color field interiors of several subterranean rail stations. With a reverent nod to the subway work of Walker Evans and films as distant as A Brief Encounter and 2001, the pictures explore the act of looking and the stillness of photography in relation to the trope of waiting for one's train.
Mike Osborne received a B.A. in English from Stanford University in 2000, and an M.F.A. in Studio Art from the University of Texas in Austin in 2006. He was a Fulbright Scholar in Taiwan (2006-2007), received a Houston Center for Photography Fellowship (2007), and was recently a Resident Fellow at the Akademie Schloss Solitude in Stuttgart, Germany (2008-2009). He is a past recipient of an Artpace Travel Grant, a Puffin Foundation Grant, and numerous Presidential Scholarships from the University of Texas. Articles on his work have appeared in The New Yorker, The Dallas Morning News, Artlies magazine, ArtsHouston, and …might be good.
Osborne's work is in the collection of The Austin Museum of Art, the Dallas Museum of Art, One Arts Plaza in Dallas, as well as numerous private collections. In 2005 his work was included in, "22 to Watch: New Art in Austin", which traveled to the Dallas Contemporary, the Austin Museum of Art, and the Galveston Arts Center. In 2010 his work was exhibited at the Thomas Welton Stanford Art Gallery at Stanford University. In March 2011, he will be included in an exhibition of Texas photographers at Fotofest/HCP, curated by Toby Kamps and Michelle White of The Menil Collection.