PRESS RELEASE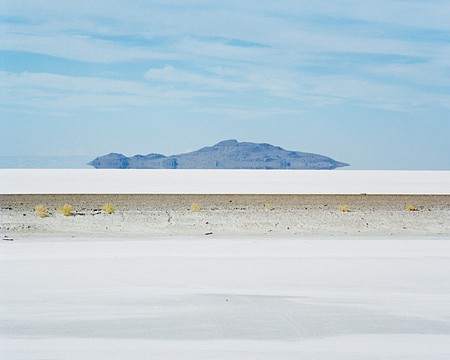 Mike Osborne: Floating Island
Oct 13 – Nov 24, 2012
Holly Johnson Gallery is pleased to present, Floating Island, an exhibition of large and small photographs and a custom artist's book by Mike Osborne. The exhibition brings to Dallas the artist's work from summer 2012 at San Antonio's ArtPace International Artist-in-Residence program. One additional photograph will join those presented at ArtPace. A reception will be held Saturday, October 13, from 6 to 8 p.m. The exhibit continues through November 24.
The photographs from Floating Island were originally shot over the course of the artist's time as a participant in the Center for Land Use Interpretation's Wendover Residence Program. Situated in the Great Basin Desert, the border-straddling town of Wendover, Utah, and West Wendover, Nevada, has a complex cultural, military, and economic history.
The title Floating Island refers to a small mountain located at the heart of the Bonneville Salt Flats, several miles east of Wendover. Due to an optical phenomenon known as an inferior mirage, the mountain appears to hover perpetually above the horizon line. Those familiar with previous bodies of work will notice Osborne's continued integration of documentary style photography with cinematic tropes, as well as the artist's interest in the narrative potential of charged landscapes.
Mike Osborne received a B.A. in English from Stanford University in 2000, and an M.F.A. in Studio Art from the University of Texas in Austin in 2006. He was a Fulbright Scholar in Taiwan (2006-2007), recipient of a Houston Center for Photography Fellowship (2007), a Resident Fellow at the Akademie Schloss Solitude in Stuttgart, Germany (2008-2009), and a participant in the Center for Land Use Interpretation's Wendover Residence (2011-2012). He is a past recipient of an Artpace Travel Grant, a Fulbright Fellowship, a Dozier Travel Grant from The Dallas Museum of Art (2012), and a research grant from the Graham Foundation (2008). Articles on his work have appeared in The New Yorker, The Dallas Morning News, Artlies magazine, ArtsHouston, and …might be good.
Osborne's work is in the permanent collections of The Austin Museum of Art, the Dallas Museum of Art, One Arts Plaza in Dallas, and the Museum of Fine Arts, Houston. In 2005, his work was included in, "22 to Watch: New Art in Austin", which traveled to the Dallas Contemporary, the Austin Museum of Art, and the Galveston Arts Center. In 2010 his work was exhibited at the Thomas Welton Stanford Art Gallery at Stanford University. He was recently appointed assistant professor of photography at Georgetown University and lives and works in Austin, Texas, and Washington D.C.
Works of art were created while Osborne was a resident at Artpace. Any reproduction, advertisement, promotion, publication, or exhibition of work must include the following credit line in any publication thereof. Commissioned and produced by Artpace San Antonio.