PRESS RELEASE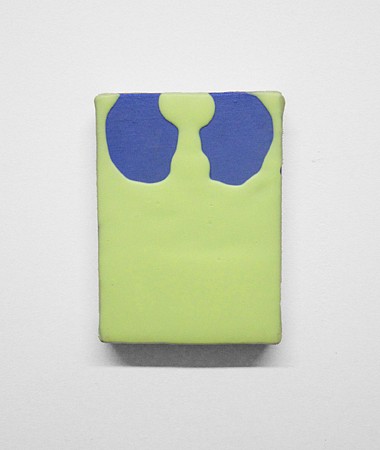 Otis Jones + Bret Slater
May 17 – Jul 26, 2014
Holly Johnson Gallery is pleased to announce the opening of Otis Jones / Bret Slater, an exhibition of recent paintings by the artists. An opening reception for the artists will be held on Saturday, May 17, from 6:00 to 8:00 p.m. The exhibition continues through July 26, 2014.
In this exhibition of new work Otis Jones continues his investigation of abstraction. The new paintings convey graphic surfaces and minimalist scenes in a pensive removal of representative ideals. Bringing the two explosive materials together, Jones' signature is ever evident through his use of staples attaching canvas or linen to thick wooden supports.
These paintings exude a physicality which is produced as they rise up from the wall with their canvases stretched tightly around wooden supports – the imposing staples sprinkled around the edges almost seem to be trapping the fabric.
Bret Slater's work both counteracts and harmonizes with Jones' paintings. Having been an assistant to Jones, Slater's work has evolved into its own genre of rhetoric with a twist of modern design and conceptual thought.
Piquing our interests and catching our attention, Slater's small and bright paintings command the wall with their elusive and tantalizing vagueness. By combing simple forms and colors manufactured in his day to day environment, Slater brings his audience into a new world of abstraction and allows us to construct our own ideas about his works.
Otis Jones (b. 1946 Galveston, TX) lives and works in Dallas, TX. He received a B.F.A. from Kansas State University in Pittsburg in 1969, and a M.F.A. from the University of Oklahoma, in Norman in 1972. In 1982, he was awarded a National Endowment for the Arts–Visual Artists Fellowship Grant. His work is in permanent collections of the Dallas Museum of Art, MIT List Visual Arts Center in Cambridge, Massachusetts, the Tyler Museum of Art in Tyler, Neiman-Marcus in Dallas and Plano, and Four Seasons Resort in Scottsdale, Arizona. His work has been featured in recent articles in such publications as NY Arts (2006 and 2008), THE Magazine DFW (2009), D Magazine and D Home (2009).
Bret Slater (b. 1987 Bronx, NY) lives and works in New York, NY. He received a B.F.A. from the School of Art + Design at Purchase College, SUNY, Purchase, NY (2009), and a M.F.A. from the Meadows School of the Arts at SMU, Dallas, TX (2011). He received the "Rising Star in Art" award by the Fashion Group International, Dallas, TX and his work has been acquired by the Dallas Museum of Art as well as the Indianapolis Museum of Art.