PRESS RELEASE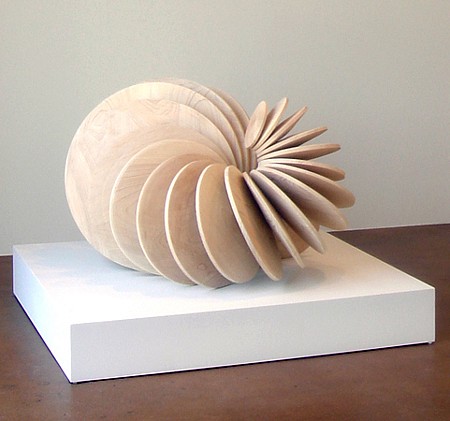 Joan Winter: Fragile Connections
May 12 – Jun 17, 2006
Holly Johnson Gallery in Dallas is pleased to announce the opening of Joan Winter: Fragile Connections, an exhibition of new sculpture and monoprints by the Dallas artist. An opening reception for the artist will be held on Friday, May 12, from 6:00 to 8:00 p.m. The exhibition continues through Saturday, June 17, 2006.
Joan Winter received a Bachelor Degree in Art and Design from Texas Tech University in Lubbock, Texas in 1969. She worked in the field of Interior Architecture for architectural firms in Texas and Louisiana prior to going back to the academic environment to pursue her Master's degree. She received a Master of Fine Art Degree in Sculpture and Printmaking from Southern Methodist University in Dallas, Texas in 1993.
The sculptural work of Joan Winter is influenced by architecture, with an interest in forms that convey a connection between the built environment and the timeless quality of nature. She has developed a respect for turned wood and for the qualities inherent in casting of resin into sculptural forms. She has recently extended the vocabulary to casting in bronze.
Joan Winter's printmaking explores connections to the three-dimensional work and investigates the relationships between space, time, and movement. In contrast to the sculptural work, she is drawn to the spontaneity and playfulness of the process. The prints are often layered multi-plate etchings and she frequently uses wood as surface texture in the etching process. Winter collaborates with master printer, Katherine Brimberry, at Flatbed Press in Austin, Texas.
In 2006 one of Winter's monoprints was the Second Place Winner in the Assistance League Celebrates Texas Art 2006 exhibition held in Houston each year. The juror of this esteemed event was Jeffrey Grove, Wieland Family Curator of Modern and Contemporary Art at the High Art Museum in Atlanta. And in 2005, another of Winter's monoprints was included in the International Print Center New York show of New Prints/2005: Etchings. Her work has been shown in Texas, New York, and California and is included in major collections, both private and corporate.